It's no secret that downtime causes major losses. So who tops our list as the biggest losers?
Just After Midnight is starting a new series where rank the biggest tech fails for each quarter. We've taken some of the worst outages from the past three months across the internet and ranked them according to scope, length, financial impact and just general annoyingness.
Read on to find out which company made the number one spot…
5. London Stock Exchange
Friday 16th August, 8am to 9.40am (BST)
What happened?
Traders at the London Stock Exchange were able to kick back and start their weekend early as a "software glitch" blocked them from trading for almost 2 hours.1 This was the worst outage for the London Stock Exchange in eight years. However, things returned to normal by the afternoon, and it didn't have much of an effect on trading outcomes of the day.
What went wrong?
It was reported by the LSE that the outage was caused by a software glitch (the Guardian reported a rumour that the outage was caused by a trader spilling a can of coke in the morning, but this was never confirmed…)2
What this meant
The international reputation of the LSE was on the line as this was the worst outage in 8 years. While trading soon returned to normal, it was an embarrassingly late start to the day for traders and serious questions were raised over the group's technology capabilities.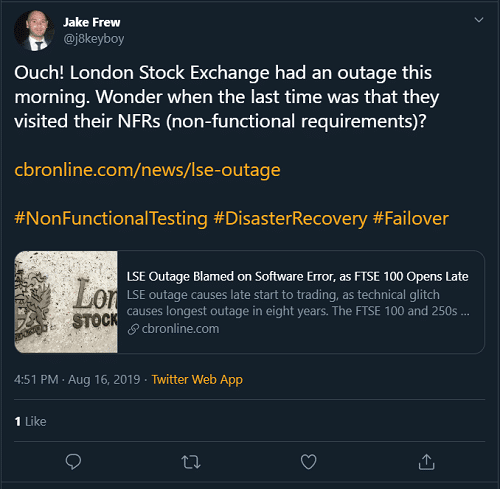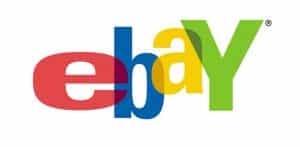 4. eBay
Wednesday, June 12th, 7am to 8am (BST)
What happened?
eBay bargain hunters across Europe, North America and Australia were experiencing issues with the website, as well as logging into and loading the mobile app. Real-time outage status reporting website downdetector.co.uk stated that there were over 7000 outage reports in the UK alone between 7am and 8am BST.3
What went wrong?
eBay explained that the outage had been caused by one of their servers being down.
What this meant
eBay issued an apology to the affected customers as soon as the site came back up: "eBay experienced technical difficulties for a short period today, where users may have temporarily had trouble accessing the site. The issue is now fully resolved. Apologies for any inconvenience."
eBay themselves lost around $1 million in revenue, not to mention many frustrated customers, who watched the clock tick down on their auctions without being able to do a thing.4 Customers missed out on tens of thousands of auctions because of the downtime, and no doubt started to look to alternative reselling sites to take their business.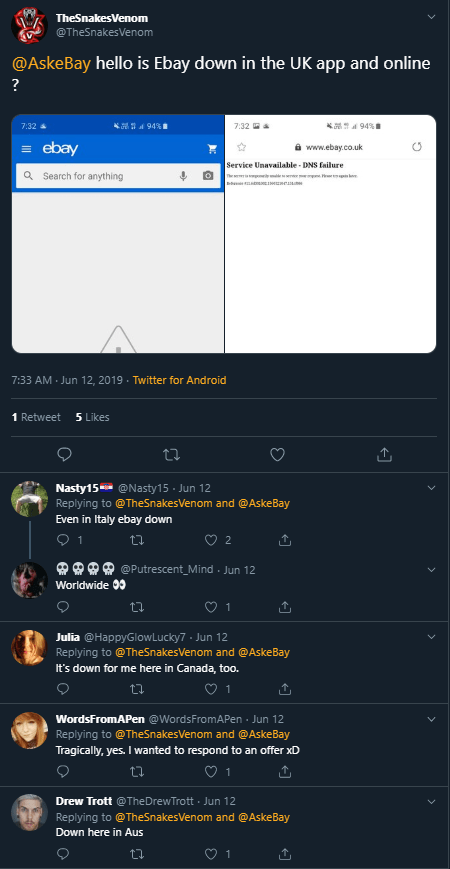 3. British Airways
7th August, lasting a whole day
What happened?
We all know how frustrating it can be to start your holiday with delays – no one wants to be stuck at the airport for any longer than they need to be. Back in early August, an IT failure caused over 500 British Airways flights to be delayed or cancelled from both Heathrow and Gatwick.5 Rather than waving the UK goodbye, tens of thousands of BA customers were stuck in queues for hours on end trying to get information about their travel as the IT failure caused chaos at airports.
What went wrong?
BA explained that a "temporary systems issue" occurring exclusively in the UK was impacting two separate systems: one which deals with check-in, and the other which deals with flight departures. The issue was covered by all the mainstream media outlets, as flyers took to social media to show their outrage.
What this meant
This was really bad timing for BA, as it came during the school summer break when thousands of families had booked their holidays. This was the third major IT failure to impact BA in the past three years, and it's clear that passengers are now really starting to get sick of the uncertainty around their travel.
A recent Which? Survey rated BA 83rd out of 100 UK companies for quality of service – a terrible result which was no doubt caused by technical disasters like this one.6 And estimating that 20,000 customers will be wanting compensation from their delayed flights, the airline could be in for a nasty payout, all due to a systems issue.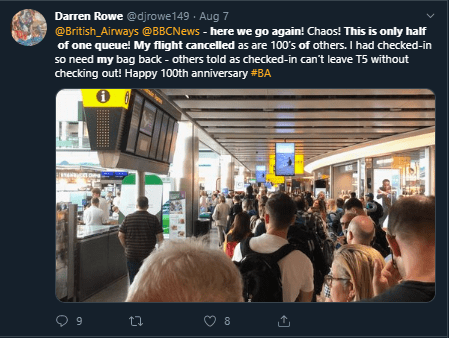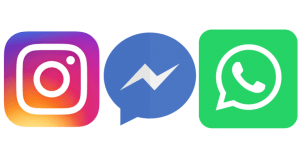 2. Facebook, Instagram and WhatsApp
July 3rd, from 12pm (BST)
What happened?
You might have struggled to send that selfie back in July, as Facebook, Instagram and WhatsApp users across North America, Europe, South America and South-East Asia were struggling to upload or send photos, videos and other files. This started around 12pm GMT and continued well into the evening.
What went wrong?
Facebook issued a statement which explained that the problem was triggered during a "routine maintenance operation." Part of the problem was that since Facebook bought both Instagram and WhatsApp, they likely rely on the same infrastructure – meaning a problem with one can bring down all three.
What this meant
Facebook has 2.3 billion monthly active users and Instagram has 1 billion, meaning that even a small outage has the potential to impact hundreds of millions of people across the world. Embarrassingly, many users took to rival platform Twitter to take out their anger on the social media juggernauts, where the hashtag #instagramdown began to climb up the trending list.7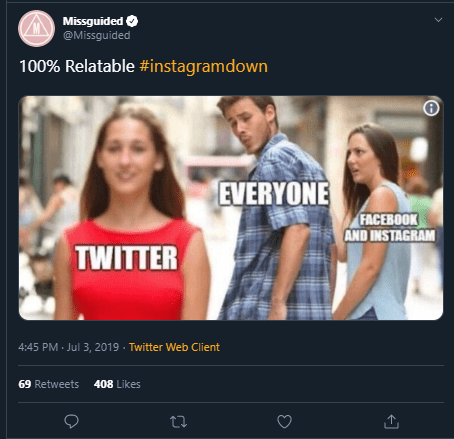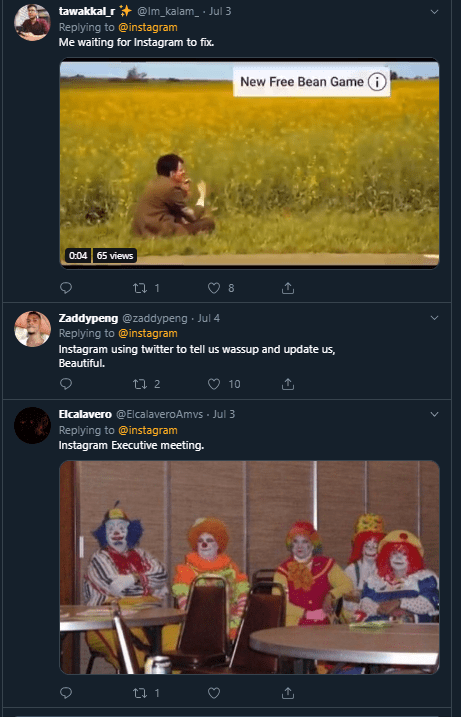 1. Cloudflare
June 24th, 12:02 to 13:42 (BST)
What happened?
On June 24th, a chunk of the internet seemed to vanish as US tech company Cloudflare caused a global outage which lasted around an hour. Cloudflare handles services including content delivery, DNS and DDoS protection for 12 million websites worldwide, and claims the highest number of connections to internet exchange points of any network across the world. Cloudflare dropped 15% of its global traffic, causing issues for 1.8 million websites around the world, including major corporations such as Amazon.
What went wrong?
Cloudflare updated users that a route leak was impacting Cloudflare IP ranges and that they were working with the network provider to bring the sites back online. This was completed successfully and traffic levels returned to normal after almost 2 hours.
What this meant
JAM has awarded this huge tech fail the number one loser of Summer 2019, as it caused massive disruption to internet users, customers and businesses globally. Countless articles were written about the widespread effect of the downtime, as well as speculation over the root cause and what could have been done differently. 
The big boss at Cloudflare was forced to take to Twitter to defend his company, blaming US tech giant Verizon for the fail:
A further Cloudflare outage on July 3rd sent the internet into a panic once again, as users across the world experienced widespread 502 errors on Cloudflare applications. As many as 10 percent of the internet was affected, according to computing.co.uk.8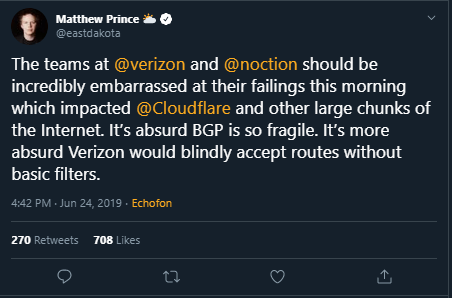 JAM was able to assist many of our clients during the Cloudflare outage, producing reports detailing the impact that the outage had on their applications and users, and suggesting ways in which to cope with these emergency situations in the future.
Our top 5 tech fails from over the past few months demonstrates that no website or application is safe from outages or downtime. Even some of the worlds largest brands with large budgets invested in their websites and applications experience errors, which can be devastating for both revenue and reputation. If you don't want to make the list in the next quarter, get in touch!