I had the pleasure of spending a few days at Sitecore Experience 2019 and SUGCON Europe 2019 in London last week. I wanted to give a short take on the weeks activity and the hot topics being discussed.
As you will probably know, Just After Midnight specialise in 24 hour application support and cloud management for all types of marketing technology products so it gives us a unique insight into how the market is moving and how the future might look.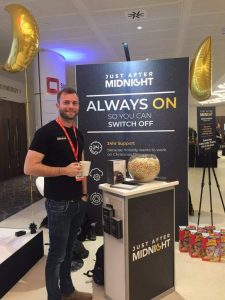 From a MarTech perspective, adoption is still very much catching up with the technology. Sitecore has for many years had advanced personalisation abilities but as yet the struggle has been to get marketers actually using these tools. It is generally a resource question, for all the automation, these tools still need planning, configuration and optimisation. As such personalisation was a topic still very much on the menu.
Content was also high up on the agenda, however, this messaging has moved from that of contextual marketing to focus more on digital asset management (maybe not a huge surprise give the acquisition of Stylelabs DAM) and how that can then dovetail nicely with emerging trends in headless CMS and the new Sitecore JavaScript Services built to take the opportunity/threat head-on.
Of course, Artificial Intelligence gets a mention, however, I was personally pleased to see it was done in a fairly pragmatic way with a good dose of honesty rather than just repeating the buzzwords.
Overall from the marketing perspective, Sitecore is still rapidly developing the core product and always looking at the wider market to see where challenges may arise, this is something to be applauded.
Moving on to the developer perspective, SUGCON Europe was a really well attended and good spirited event with friendly faces everywhere we looked. There were many of the same topics covered but from a technical perspective (JSS, SXA, DAM and marketing automation engine) then there was DevOps which was high on the agenda. The hard push to Azure PaaS this year is a major part of this and even the keynote came from Microsoft's Donovan Brown who gave a great overview of how agencies and Sitecore developers can make use of the new tools.
Overall one of the best events from Sitecore in years and we were delighted to have been a sponsor – it was a real delight for me to see so many people from Just After Midnight's partner agencies. It was also great to see the reception for our 24/7 services from developers across the globe who face the same challenges and want to rest easier at night.