This month we're talking to Senior DevOps Engineer Hang Tian about her work at Just After Midnight. Hang started with us 6 months ago, and she's quickly become the go-to for anything .NET related. Here we talk about how she's settled in at JAM, the opportunities it's given her and her favourite projects.
What does an average day look like to you at the moment?
My average day depends on what our clients need, so it's rarely ever the same. I usually start by making a coffee, then I'll check to see if there are any urgent outages I need to jump on immediately. If there aren't I'll then check our ticketing system to see if there are any tickets that need my immediate attention.
During the day, I'll complete my DevOps and infrastructure work, which often involves investigation and research into different areas of each to expand my knowledge and better advise and solve different client issues. I also spend time each day knowledge sharing and helping other members of the teams with their work – as we work 24/7 to offer application support we all pitch in together at JAM to make sure everything is resolved as quickly and with as much expertise as possible.
What makes JAM different from other places you have worked?
At JAM I'm working with smaller teams, which means I am touching base on many more areas of the business than in other places I have worked. This means my work is more diverse than just working on development.
The pace at JAM is challenging – as a rapidly growing business, we are growing more and more busy with client work as the year has progressed. My ability to multitask has improved significantly and I have learnt to prioritise my work effectively.
JAM provides training opportunities unlike anywhere else – we're definitely encouraged to pick up as many different professional certifications as possible which motivates the whole team to learn.
What has been your favourite project to work on and why?
The first client work I took on at Just After Midnight was working on the deployment process for a global law firm. This was an interesting and challenging job as our aim was to redesign the whole deployment process and automate as much of it as possible, to make it easy for the client to make changes in the future.
We set up a continuous integration pipeline, using both TeamCity and Octopus Deploy to streamline and automate all the individual processes associated with deployments. We got great feedback from our partner agency and the client expressed how happy and pleased they were with the new process.
More recently, I've been working with a client who is a leader in the housing development sector. The client built a new website which reached the UAT testing stage but still had serious performance issues. They asked Just After Midnight to review the infrastructure, manage the new website's hosting and ensure that the site would be ready to go live on time. We looked at the infrastructure setup and found that the specification was higher than recommended which eliminated the idea that the performance issues were being caused by the hosting set up. We were then able to consult them on their application, working with the partner agency effectively to diagnose what application setup was causing performance issues. Coming to a final resolution with the client was very satisfying!
What new skills have you picked up?
I came to work at Just After Midnight from a .NET Dev background, but due to the training offered I can now confidently contribute more to the infrastructure side of things. With the developer knowledge I have built upon, I can quickly spot when and why things have gone wrong for our clients, and offer my recommendations to make sure they don't happen again.
What has been your best memory or achievement so far?
Earlier in the month, I was asked to go and represent Just After Midnight along with our Technical Director at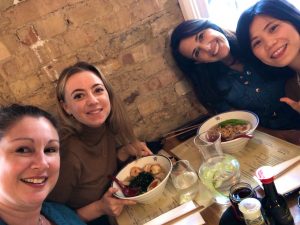 the Episerver Ascend event in London. It was really exciting to be able to further expand my knowledge of Episerver, which I have developed significantly since starting at Just After Midnight, as well as being asked to represent the company for the first time. I had a great day and met some really interesting people from across the industry.
My other best memory has to be the week a new Japanese restaurant opened up near the office – it is one of my proudest personal achievements that I went every single day and tried their whole menu of ramen!
Thanks Hang!
You can find out more about our DevOps and DaaS (DevOps as a service) offerings here. To get in contact with our team, click here.