As part of the huge growth Just After Midnight have experienced this year, we're thrilled to announce our new status as an Advanced Consulting Partner as part of the APN (Amazon Partner Network).
Whilst cementing our position as THE go-to support people for brands and their agencies, we've helped our partners build and migrate powerful, cutting-edge solutions on AWS and this is a wonderful recognition of the work we've done.
What does it mean to be an Advanced Partner?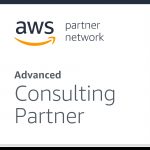 The AWS Advanced Consulting Partner Tier recognises APN Consulting Partners who've excelled in providing successful solutions on AWS, who have extensively trained and knowledgeable teams, and who have the 360-knowledge of AWS to manage projects effectively and take their clients to market with innovative, revenue-generating solutions. 
But this status does more than recognise this. It signals a deepening of our relationship with AWS and even more ambitious projects on the horizon.
Just After Midnight CEO, Sam Booth said, 'Those who work with Amazon Web Services will know they are uncompromising in their pursuit of the very best partners. Becoming an Advanced Partner is only achievable with a high level of skill and dedication. I'm really excited about what is to come.'
We've helped businesses of all sizes take advantage of the amazing potential AWS has to offer. To find out what we could do for you, just get in touch.