During the last week of August, Just After Midnight had the pleasure and honour of sponsoring the first-ever Sitecore User Group Conference (SUGCON) and Sitecore Experience Day in Sydney, Australia. Our Melbourne-based Solutions Architect Juan was part of the team who attended, so we asked him to share his thoughts from the event.
I had the opportunity to spend a few days in Sydney and be part of this fantastic event. It was great to meet a few of our agency partners and friends, and able to make new ones in the process. And oh, I am thrilled to announce that I passed the Sitecore 9.1 developer certification exam, refreshing my certification from 7.0!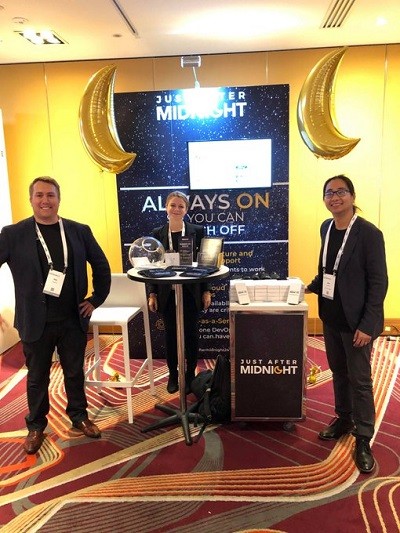 I have been in similar events in the past and I must say the organisers have done a wonderful job. The topics, scenarios and examples were practical which resonated well with the audience rather than the usual fluff.
I spent time going to the technical track talks, where many of the usual topics were covered including JSS, Docker, Performance tuning, SXA, TDS, SSO and Content Hub. However, what really caught my attention was the Sitecore Horizon. This is a new way of editing content, which Sitecore promises will upgrade the current authoring experience. From my perspective, it appears to be more powerful than the current Experience Editor. If you work with Sitecore, whether as a developer, marketer, or a content editor, watch this space as this could be a real game-changing innovation.
In between talks, I was manning the Just After Midnight stand which gave me a great opportunity to interact with professionals from different digital roles, gaining insights to what their needs and pain points are within their discipline. We'll definitely use these insights to improve our offerings and make sure that they are even more specialised to the needs of the different brands and agencies we work with.
Overall, it was delightful to see the strong interest in how we can provide 24/7 support, managed cloud and DevOps services for Sitecore, from attendees from all disciplines and roles, from developers to directors.
Chat with us if you would like to learn more about how JAM can assist you with your Sitecore needs.