Just After Midnight is going back to basics with a new series designed to introduce some of our key areas of expertise to an audience that may not be familiar with what we do.
Each piece aims to explain the key information about each topic, and give you a realistic plan how to start using each service.
For our first piece, we've chosen to start with the cloud. It's the bread and butter of what we do here at JAM, and the perfect place to start if you're looking to improve how your business works online.
How to: get started with cloud
Cloud computing is everywhere. It's likely that you're already using it if you're storing photos in Dropbox, or files in Google Drive. You may have considered moving your businesses data over to the cloud, but have no clue where to start. It can be daunting, complex, and take a while to implement. However, we think it's worth it. Let us summarise how to get started with cloud.
We'll start from the very beginning. What is cloud computing? Why are people moving towards the cloud and away from traditional systems of storing their data?
Cloud computing is the delivery of computing services over the internet, as opposed to on a traditional physical server.
But why is this better? Simply put, cloud computing gives you more control. It's also a more efficient, and cost-effective method of storing your data than traditional methods.
Possibly the most important benefit of the cloud is that it is highly flexible. The cloud is both configurable and scalable. Cloud customers can easily adjust their demands depending on changing needs.

Cloud-based applications and data can be accessed from virtually anywhere. This also means teams can collaborate worldwide.

By using the cloud, businesses can avoid the upfront cost of owning and maintaining their own IT infrastructure, and instead can pay for what they use, when they use it.
It's easy to see why the cloud seems like the better choice for businesses. But implementing and executing a cloud strategy can seem daunting, especially if you have large amounts of sensitive data that needs to be migrated. We believe this process can be summarised into four key steps for cloud success.
Determine the issues, and define your objectives
The first step should be determining what issues you want to solve by moving to the cloud. Collect data on how your data is currently stored and used – here are some questions you could ask:
What is the running cost of your physical device and network admin?

What is your hardware warranty?

Is there a huge surplus of space that you're unnecessarily paying for?

How much space is left on your device?

What is the lifespan of your hardware – how much longer before it needs upgrading?

How are you maintaining your current system?
A cloud solution could help with any of the above issues, and more. Moving to the cloud can also simplify deployments, for example, so it's worth asking your team what issues they might be experiencing with the current system you have in place. By reflecting on these issues, you'll create business goals that can be achieved via cloud solutions.
Whatever the issue, the decision to migrate to the cloud should be a strategic one. Moving to the cloud can be a lengthy process, and will require coordination from your team and your hosting partner. It should be a collaborative group decision, but ultimately approved by the high level decision makers within your business. Once issues have been identified, set some clear objectives of what you want to achieve.
Understand your options
Once your objectives have been set, you'll then need to understand what your options are to accomplish this.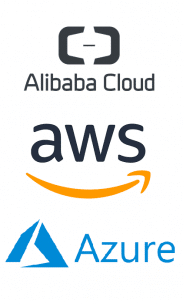 You'll be able to find many pieces online which detail the pros and cons of different cloud providers – AWS, Azure, Alibaba Cloud to name a few, so we won't be delving into this in detail. However, for the best solution it is important to look at your data and activities and how best to store/deliver these. Some organisations find that a multi-cloud strategy using multiple cloud providers produces the best results. But this will depend on your own organisations needs – your data will have different needs and constraints, and your cloud strategy should reflect that.
You might also want to consider different storage options. A private cloud is stored by your company's intranet/hosted data centre, whilst with a public cloud your data is stored in the providers data centre.
You can also choose different levels of control when it comes to cloud maintenance. Infrastructure as a service (IaaS) is for those who want to build their own applications from the ground up, and be immersed in the process. Platform as a service (PaaS) is a more ready-made option. With PaaS, you have less upkeep responsibility, but it is easier to scale to your needs. Software as a service (SaaS) is cloud based software hosted by a company online and is available via subscription. It is easy to use and manage, and doesn't need to be downloaded and installed on individual devices – meaning its particularly useful for globally distributed teams.
Migrating to the cloud is a complex process and it can seem like the options are endless. Take time to research, and get advice from cloud engineers who will be able to advise on the best course of action for your business.
Establish a roadmap
Moving to the cloud is a marathon and not a sprint. Establishing a roadmap is essential to understand the process you're about to embark on, how long it will take and what impact it will have on your business. Your roadmap should be based on your organization's strategic objectives, and the personalised cloud strategy you have selected.
Some considerations to take into account when planning your roadmap:
Who will be taking ownership of the processes, both internally and externally

How long will each step take

What applications will be moved
Experts will be able to work with you to establish your roadmap, and support you through it.
Implementation and testing
After thoroughly planning out the migration strategy your business will adopt, you'll begin to implement the steps you've mapped out.
We recommend that testing should be a key part of the migration. Leaving plenty of time to test your cloud strategy thoroughly will iron out some of the kinks later on down the line, and reduce the negative impact this might have on your business.
Just After Midnight believes in moving data to the cloud sustainably. Rather than providing quick fixes, we want to make sure that we're supporting our partners every step of the way during their cloud migration journey. We'll be there from the very beginning, offering our cloud expertise to explain your options, and creating a cloud roadmap with you. Our team implement it with you, and ensure that it works after weeks, months, and even years.
If you're interested in moving to the cloud and want a partner to help you with the journey, get in touch with Just After Midnight here.