What's it like to be the technical director at Just After Midnight? I sat down with Arif Ali to find out. 
Arif began as a Technical Director with Just After Midnight in November 2017.
What would you describe as your key responsibilities as Technical Director?
I am responsible for making sure our clients are happy. This means working with the team to ensure that any technical issues our clients' websites and applications face, are smoothed out as quickly as possible, avoiding any downtime and potential damage to their reputation. I make sure that our technical team is on track with assigned project work, and offer any technical consultancy needed with new business projects. Most importantly, I make sure everyone in the UK office has a smile on their face.
What does a typical day look like in your role?
First thing in the morning, I catch up with our teams in Singapore and Australia to find out what they've been up to overnight and any activity on clients' sites and applications. Our Singapore and Australian teams manage the sites and applications overnight whilst the UK team sleeps. After our catch up we know if there are any ongoing issues we need to be looking into during our day.
I'll then check my emails and jump on any alarming issues as priority. I'll update our white board in the office with our project work, and assign everyone roles. Throughout the day I'll offer assistance to everyone in the team, and jump on calls with clients to make sure that they are up to date and happy with the work that we're doing. I'll make sure that all our infrastructure is healthy, with no alarms. I'll also do some routine checks on internal and client processes to make sure everything is working properly.
I am also regularly out at client meetings. During these meetings my role is to provide consultancy to our clients or prospective clients on designing environments in cloud solutions such as Azure and AWS or looking at tooling and best practices to build websites on platforms such as Sitecore and Umbraco.
What do you enjoy most about your job?
I love the #jambanter in the office.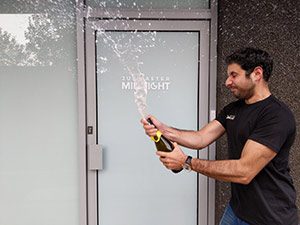 What has been your top JAM moment from the past year?
I've got two: passing my AWS Solutions Architect qualification was a highlight. I'm also proud of the way we've been able to take on board more clients without white labelling ourselves so that JAM is really recognised by our clients.