On 1 April 2022, Singapore will open up to all fully vaccinated travellers for the first time since the pandemic. This marks a turning point on the road to recovery, coming along with the loosening of other measures (outdoor masks mandates and social gatherings) announced by the government on the 24th of March.
The cherry on top? Just After Midnight Singapore has a couple of exciting changes we'd like to share, too. 
First, we're thrilled to introduce Callum Davies, who'll be taking over from Freddie Heygate (now bound for the USA) as our new Managing Director in Singapore.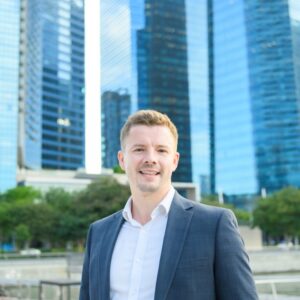 Callum brings a decade worth of experience in consulting and implementation of complex technical architectures across multiple industries. He started his career at IBM UK before making his way to our sunny island state. 
Callum then moved on to an IT consultancy AWS partner, championing the AWS Well-Architected Framework and driving tech transformations throughout the region. 
Over the years, Callum's led large teams on many long-term transformational projects across ASEAN, Japan and Europe, and he'll bring a wealth of cloud experience to help transform businesses with Just After Midnight.
Freddie Heygate will continue to remain a part of JAM as CEO of Just After Midnight Inc. in the United States.  Based in Austin, Texas Freddie will be breaking new ground in the North American market. Since joining JAM Singapore as the CEO of Asia in 2019, Freddie has helped clients from a variety of industries to transform their businesses by modernising their applications. The impact of his work will not be forgotten, and our Singapore clients and team will miss him very much. So, if you have a business in North America that would benefit from the variety of services that JAM offers, feel free to connect with Freddie here.  
Secondly, JAM Singapore has moved to a new office in the city, within the vicinity of Chinatown at Pagoda Street: 
39B PAGODA STREET,
#03-01,
SINGAPORE 059198 
The new location marks a commitment to growing capabilities in Mission Critical Cloud Support, Application Modernisation and DevOps, as well as developing the future cloud experts delivering innovative customer solutions. We're constantly on the lookout for folks with the curiosity and the drive to join our #JAMFAM, check out our open roles here. 
Lastly, if you're searching for a reliable team in Singapore to support your cloud infrastructure, application or anything else, or take it to the next level,  get in touch with Callum here.